I had a moment a few days ago. One of those moments when I pause to appreciate and marvel at the whirlwind of life.
In less than a week, I had gone from photographing whales with friends from Japan and Taiwan, to enjoying a wonderful meal in a Malay restaurant, polished off with incredible desserts created by a talented Thai friend.
Stuffed and happy, I flew half a world away to take part in the 53rd Wildlife Photographer of the Year award ceremony (#WPY53) in London where I met talented people from around the world, had dinner with French and Italian friends (one of whom is a photographer of bears whose surname happens to be Urso! - click to see his photo), then flew back to my side of the planet to celebrate with a delicious Thai meal washed down with locally brewed craft beer.
I then spent a day doing an interview for TV, and I'm about to head back to sea with friends from Singapore and Thailand, to sit under the tropical sun again and wait for intelligent life to take pity on me.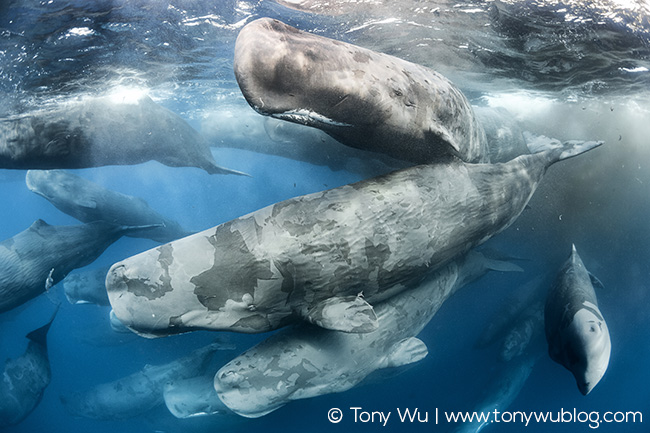 The discussions I had with people along this 7-day journey were varied and eclectic:
about whale stuff (of course);
food, food and more food stuff (of course);
photography stuff (also, of course);
the fate of the Ewoks (did the destruction of the Death Star inadvertently cause the extinction of the wee-wittle warriors? Why have they not made another appearance?);
the tying or not tying of bow ties (I settled upon not tying after severely disappointing the person who tied herself in knots trying to teach me to master the tying of a bow, and I met someone who allegedly tied his own bow tie but was unable or unwilling to verify said tying capability when I requested a demonstration of his self-declared tie-tying-talent - that's you Jonathan);
Klingon vocabulary (one friend is a school teacher whose students understand multiple languages so she needs a language to express private thoughts, as she apparently talks to herself, which is a different issue altogether, one among many that she has, another for example being the inability to tell the difference between a kidney and bladder despite being a biology teacher, though I dunno why because it seems quite obvious to me. Poor kids.);
dark matter (I just read a good book with an interesting theory on this topic - Dark Matter and the Dinosaurs by Lisa Randall);
economics (yup, really); and
endangered head-shagging parrots (yes, I ran into Mark Carwardine again, and yes, you guessed it, I had to bring up the kakapo again, how could I not? (See my post from last year #wpy52.) Please, please watch the video below of Mark being shagged by a bird while Stephen Fry makes helpful observations like: "Look he's so happy!" which, to be frank, I wish I had been the one to say, because how many times in life do you get to make wisecracks on TV while a horny parrot consummates his affection for the head of a bewildered photographer? Thankfully, we now have YouTube to preserve this intimate interspecies interlude for the enjoyment of all, right Mark?).
There was a lot more that was discussed along the way, but you get the idea.
This was the third time I've participated in the Wildlife Photographer of the Year event, organised by the Natural History Museum in London, sponsored by Dong Energy (to be rebranded as Ørsted from next month). I previously won the Under Water category and received the Gerald Durrell endangered species award in 2010 (blog post), and won the Under Water category once more in 2016 (blog post).
Perhaps this is stating the obvious, but it was, once again, an honour to be among so many dedicated photographers and observers of our wonderful world. The sense of comraderie and mutual respect is something to be treasured. Many of us hung out after the official ceremony for a few drinks, though only two of us had the good sense to change out of our formal wear into jeans and t-shirts (in part because we had the good fortune to be staying at the hotel where we ended up hanging out).
Of note, there was a particularly strong showing from the underwater photographic community this year. Out of 14 adult prizes, five category winners were underwater images. They were:
Extending the count a bit by adding winning photos submitted by people who primarily take underwater photos, we get two more category winners:
And if we count images that placed that were either taken underwater or involve water as a primary theme, we get at least 15 more images.
Well done everyone!
The overall winner for the adult categories was Brent Stirton from South Africa for his image Memorial to a Species. It's a sad, sad testament to humanity's treatment of wildlife. How can we keep doing this? Really.
This is the first time I've met Brent, hopefully not the last. In thinking of how to describe this thoughtful South African, three words came to mind: warm, humble, dedicated. I'm certain there is much more to Brent than these traits, but this is the impression I have after having a handful of conversations with him. Brent has voiced an interest in possibly spending some time together though, so clearly, his judgement is not the best.
If you haven't already done so, visit the competition site to look through the gallery of all the selected images: Grand Title Winners; Adult Categories; Young Awards. It's a terrific collection of photos.
There were a couple of personal highlights from my short stay in London.
First was the fact that I got to see Hope, the new blue whale display in Hintze Hall of the Natural History Museum. Last year, when I heard at #WPY52 that a blue whale skeleton display would be taking the place of Dippy the diplodocus, my immediate thought was: "Oh wow, I would love to come back to see the blue!" I got my wish.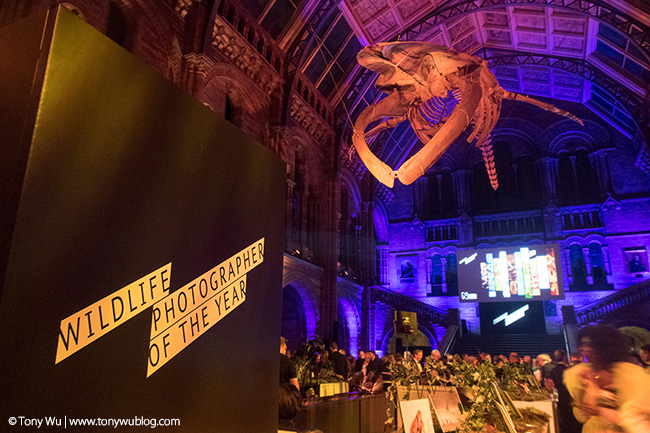 I've been up-close in the water with living blue whales, but I think this is the first time I've seen a blue whale skeleton. The display is beautifully done, impressive. I am a fan of the moniker of Hope that the museum has given to the whale. We are continually inundated with so much bad environmental/ nature news that it's nice to have a positive message sometimes. Many blue whale populations are increasing, which is a good thing. Sadly, the Antarctic population, the one that was hunted most intensively, doesn't seem to be doing so well, but there is at least…Hope.
Ditto for many other whale species. This was, in fact, the message underpinning my image Giant Gathering. We killed something around two-thirds of the global sperm whale population by the end of industrialised whaling. So seeing an enormous gathering of sperm whales suggests that at least in some areas, populations may be increasing and hopefully recovering from our best efforts to do them harm.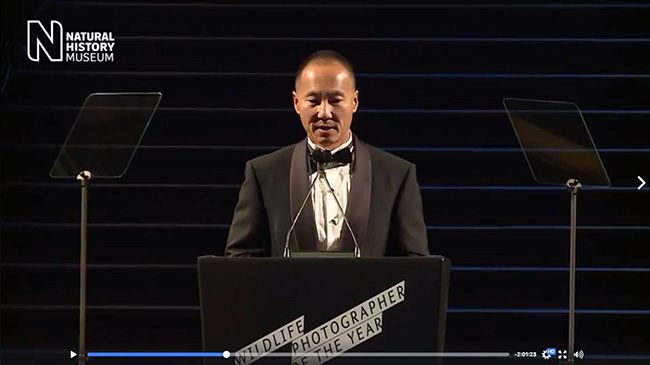 The second personal highlight was the fact that I got to say "group poop" on stage! This follows my saying "group sex" last year. There is considerable satisfaction to be derived from being juvenile while dressed in a tuxedo pretending to be an adult in front of a distinguished audience.
I should perhaps end on that note.
Should you be so inclined, you can watch a video of the entire award ceremony here (my category starts at 57:00, and I ramble a little bit more at about 2:02:00):
If you find yourself in London, go see the exhibit! The selected images will be on display at the Natural History Museum until 28 May 2018.
Don't forget to look up and gawk at Hope too.