I've been quiet online recently. Have been devoting the bulk of my time to two things:
Conditioning for the upcoming whale season in Tonga (running stairs, doing agility drills and sprints, hitting the gym, eating heaps(!) of healthy food); and
Editing photos (so much more painful than #1) for upcoming talks and exhibitions.
Both of these pursuits require 100% concentration, so I've basically been a hermit, keeping to myself, listening to lots of music and podcasts while I focus on the tasks at hand.
Just poking my head up to say hi, and to post one of my favourites from the photos I've cleaned-up recently, a fluke-on image of a female humpback whale, with her calf frolicking below.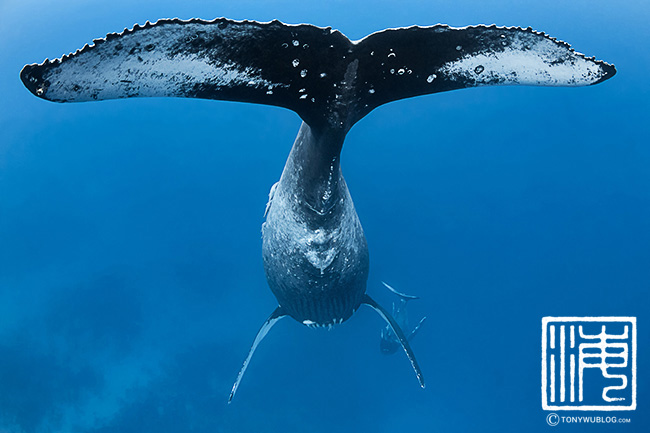 The big whale is the mother of a severely injured male calf from the 2011 season (more information). Both she and her son are so easy to recognise that I'm hopeful I'll see one or both of them again in the future.
Right. Back to editing.