I just wrapped up my recent series of six talks with a couple in Singapore (the first four were in Japan between December last year and early February this year). The first event was on 24 February at the Lee Kong Chian Natural History Museum, and the second at the DRT Show in Suntec Convention Centre the following day.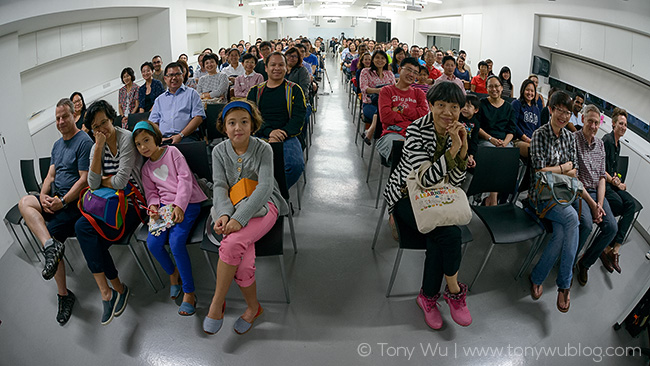 I spoke for an hour and a half about sperm whales at the museum—mixing photos, video clips, personal anecdotes, well-known facts, and snippets from recent research—to provide as clear and complete a narrative as possible about these fascinating marine mammals, as a complement to the sperm whale skeleton on display at the museum. It was rewarding to receive many terrific questions at the end, especially from the younger members of the audience. (I did my best to act like a mature adult.)
My talk at the dive show the next day was for 40 minutes. I did a rapid-fire review of a number of cetacean species: orcas, gray whales, humpbacks, southern rights, Bryde's whales, sperm whales and blue whales. Whew.
Landlubber time finished, it's time for me to head back to sea now. (Actually, I snuck away for a couple of weeks before traveling to Singapore and dived in colder waters, because I was having saltwater withdrawal symptoms and couldn't stand sitting at a computer any longer.)
Incidentally, the LKC Natural History Museum will be unveiling a temporary marine-centric exhibit on 11 March. The exhibit will explore and discuss ocean-related myths. A number of my whale photos will be on display.
If you live in Singapore or are visiting the Republic, go see the sperm whale skeleton pictured below, and check out the temporary exhibit if your timing is right!