The Natural History Museum and Institute (link in Japanese) in Chiba prefecture, Japan has one of my sperm whale photos on display next to this skeleton of a sperm whale: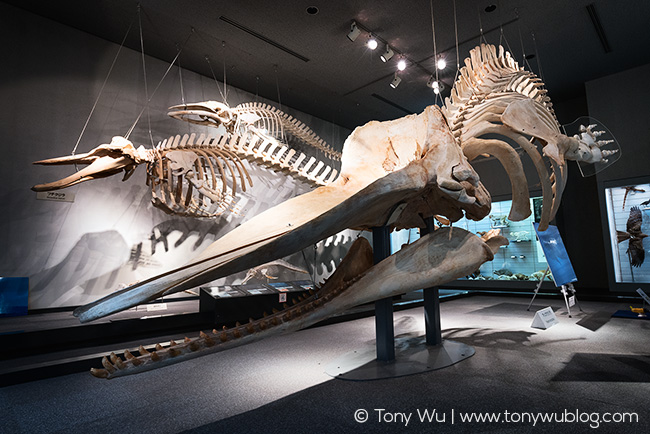 It's part of a special exhibit about the deep sea running until 19 September. My photo illustrates an adult female that has just come up from the deep with some squid stuck to her mouth, along with a bit of calamari that she dropped.
The museum is a bit of a trek from where I am, but I managed to go for a visit yesterday. My researcher friend Shimoinaba-san gave me a nice tour of the exhibit. She let me know that the photo has been particularly useful explaining the dietary habits of sperm whales to groups of school kids.
Besides the whales, there were a lot of fascinating deep-sea specimens on display, some species I've seen before, but many I had not. Perhaps the most mind-blowing thing for me was a species of deepwater hermit crab (Xylopagurus philippinensis) that makes its home inside the hollow centers of small sticks of wood. Yes, apparently these crabs wait for wood to drop down from the surface to deep, deep water, and then stick their rear ends into the hollow sections. Their posteriors are hard (calcified?) and serve as caps for their tubular-wood homes.
Life is so odd. So fascinating.