Mystic Seaport, located on the Mystic River in Connecticut, embarked on a project in 2008 to restore the Charles W. Morgan. The Morgan was the last wooden whaleship in the world, launched on 21 July 1841.
With restoration work completed not too long ago, the rejuvenated vessel is traveling around the New England area this summer, with stops in places like Newport, Martha's Vineyard, New Bedford and Boston.
The ship will be the centerpiece of a traveling exhibit about the history of the vessel, the whaling industry, and of course, whales (see itinerary). Part of the exhibit is a 46ft inflatable sperm whale named Spouter, pictured below: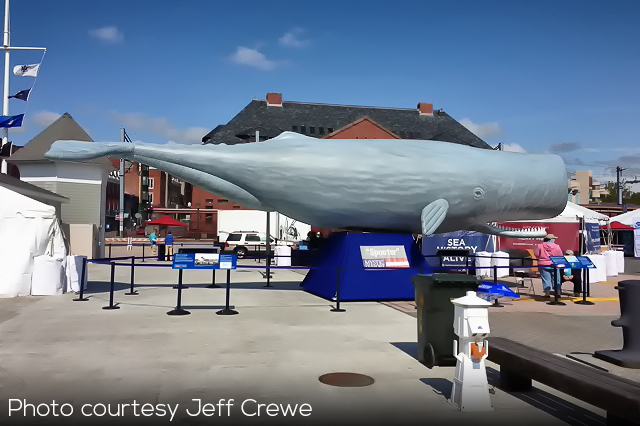 Jeff Crewe from the Mystic Seaport contacted me earlier in the year to consult on Spouter's design. Having never been in the water with a sperm whale, Jeff asked for a check of proportions, shape, etc. Jeff's design was 99% spot-on, so I only made a few minor suggestions.
Anyway, if you find yourself in New England this summer, here's a page of information about the vessel and the roving exhibition.
One of my humpback whale photos is on a display panel at the exhibit as well. Let me know what you think of Spouter!