Seven baby whales since 1998! That's how many calves this female humpback whale has been spotted with in Tonga: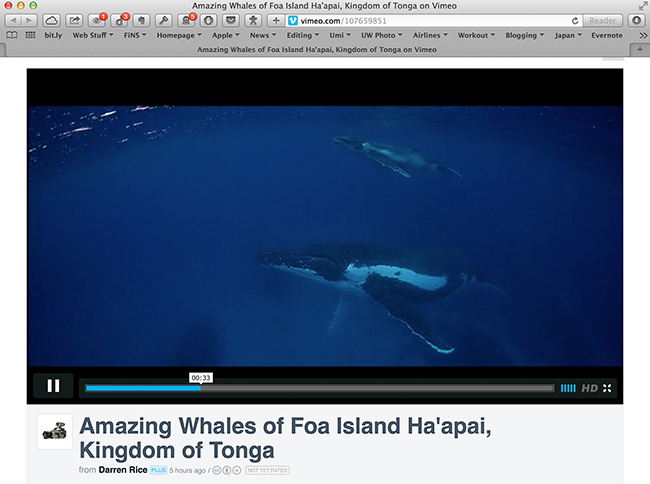 This is the whale that I dubbed Super Mommy in June this year, when I documented her with a 5th calf in Tonga over a period of 11 years, 2002 to 2012 (see blog post).
Shortly thereafter, in July, Claudia Jocher sent me two photographs of this same female...placing her back to 1998, with a calf in 1999. That meant documentation of this female humpback whale with six calves over a period of 15 years, 1998 to 2012 (see blog post).
And now...my jaw dropped when I saw this very same female glide across my computer screen while I was viewing a nice video of humpbacks created by Darren Rice and posted on Vimeo recently, which I came across via a post by Eric Cheng. Darren's 9-year old son JJ also took video of the same whale, posted on Youtube.
Darren owns Matafonua Lodge in Ha'apai, which makes this the first confirmed sighting I have for Super Mommy in Tonga's middle island group. All the other sightings I have are from Vava'u.
Darren told me that they had encounters with this humpback and her male calf on two days this season: first on 5 August (twice that day); and once again on 20 August.
Click this link to view a summary PDF file of all eight sightings of this female, with photo and video documentation of every sighting gathered from a wide variety of sources: Darren's and JJ's videos in 2014; photos taken by Kirsty Bowe and me in 2012; photos taken by Nonie Silver and Karen Stone in 2009; photos taken by me in 2008; photos taken by me in 2005; BBC stock footage taken in 2002 that Michele Hall helped me track down, which was part of a 2009 NatGeo documentary I watched late one night while in Palau at my friend Ron's house; photos taken by Claudia Jocher in 1998 and 1999.
How's that for crowd-sourcing and citizen science?!